Hey there - how are you this Wednesday? Closer to the weekend - isn't that what matters? Hehe! I wanted to share with you some more of my December Daily album.
I left off on page 6 so here we go with page 7.
I covered a bit of the envelope and glued the photo to the front. The Journaling went on a journal spot that I had in my stash.
Page 8
This year I made a different type of advent calendar. Here is Alyson in front of it before she started to open one a day. I decided to journal in the white space on the photo.
Page 9
This cute little pocket was perfect for the photo page I wanted to insert. I had decided to just make a grid with the pictures of our time baking.
The journaling is on the back.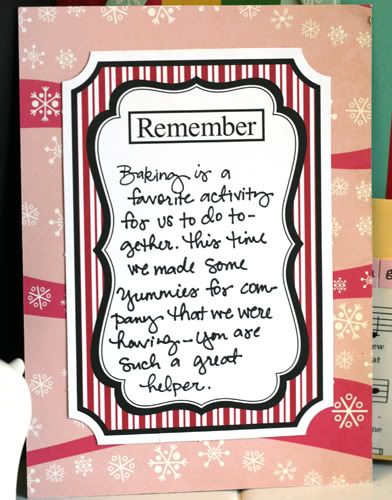 Page 10
This is a mini page and I only printed one photo from Alyson's songfest.
Page 11
We watched the 25 days of Christmas and I documented it. I did the journaling for it on the back of the previous page.
Page 12
I had this making memories journaling spot in my holiday collection. I used it as a sort of "cover" page for page 12.
The white behind the 12 is a Martha circle.
Page 13 - I added the Hambly transparency and the number 13 to the "cover" of this day.
Page 14
I used a bunch of old stickers for this one. It felt good to use my stash.
Page 15
That cute little chipboard flower had to be used. I added a chipboard embellishment to it. This page was about our movie night:)
Page 16
I had a couple of mini pics that I wanted to use but I made it a little folder. I held it down with one of the chipboard pieces. I didn't peel off the backing and instead just used a brad to use as a pivot.
That's all I have for now. I am working on it this week to finish up. I will be sure to share when I do:)
Michelle